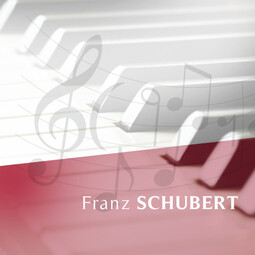 Ave Maria
In 1825
Franz Schubert, one of the greatest composers of the Romantic Era,
composed "
Ellens dritter Gesang
" better known as
Ave Maria
. It has become one of Schubert's most popular works. Learn to play this beautiful piece of
classical music
from our three different adaptations for
piano solo
which you can
select below
and then
print out
from home at your own convenience. Choose your
music sheets
with or without reading aids for better enjoyment. For those of you who have difficulty deciphering music notes, try our
easy piano music
Level 1 with
note names
instead of symbols.
Ave Maria
was written by
Schubert
in 1825 as part of his
Opus 52
and was composed as a setting of a song from the popular epic poem
The Lady of the Lake
published by
Walter Scott
in 1810. Several cover versions of Schubert's masterpiece have been released by artists including Beyoncé and Andrea Bocelli.
Piano solo
Sheet music

$4.99

$4.99

Sheet music with note names

$4.99

$4.99

Audio aid to guide you by ear (Mp3)

$0.99

$0.99

Video aid to guide you visually

$3.99

$3.99

Sheet music

$4.99

$4.99

Sheet music

+

Sheet music with reading aid

$6.99

$6.99

Audio aid to guide you by ear (Mp3)

$0.99

$0.99

Video aid to guide you visually

$3.99

$3.99

Sheet music

$4.99

$4.99

Sheet music

+

Sheet music with reading aid

$6.99

$6.99
Piano accompaniment
Sheet music

$4.99

$4.99

Sheet music

+

Sheet music with reading aid

$6.99

$6.99

Sheet music (Original version)

$4.99

$4.99

Sheet music (Original version)

+

Sheet music with reading aid

$6.99

$6.99