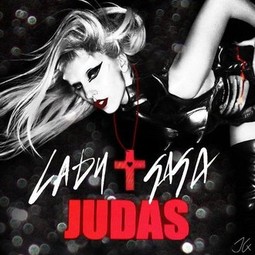 Judas
"The" single of
her
album Born This Way released in May 2011,
d
iscover our
Judas piano
sheet music signed Lady Gaga! Available in several levels of difficulty, you can choose the score best suited
to
you
r piano playing skills
. Beginners
have the choice of two
easy piano
music sheets (Level 1) one with traditional music notes and the other with the note names
which reads a bit like a tablature. If you prefer t
o sing along
,
then choose our Level 2 piano accompaniment version available with reading aid, if required.
Treat yourself! Click here for other Lady Gaga titles!
Piano solo
Sheet music

$4.99

$4.99

Sheet music with note names

$4.99

$4.99

Sheet music

$4.99

$4.99

Sheet music

+

Sheet music with reading aid

$6.99

$6.99

Sheet music

$4.99

$4.99

Sheet music

+

Sheet music with reading aid

$6.99

$6.99
Piano accompaniment
Sheet music

$4.99

$4.99

Sheet music

+

Sheet music with reading aid

$6.99

$6.99