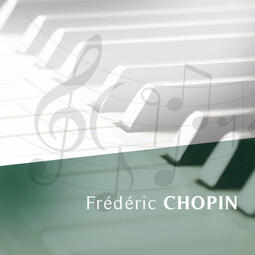 Nocturne Opus 9 No. 2
Do you love
classical piano music
? Try our
Nocturne in E-flat major piano sheet music
for one of the most beautiful pieces composed by young
Frederic Chopin
when he was in his twenties. Choose the
original version
for accomplished pianists or one of our three different adaptations depending on your piano playing ability, with or without
reading aid
. You are sure to find the right sheet music for your skill level.
Chopin
composed his
21 nocturnes
between 1827 and 1846. He was a great admirer of the form which had been originally developed by Irish composer
John Field
.
Nocturne in E-flat major
is from his
Opus 9 no. 2
.which was published in 1833. It has featured in a number of TV series and films in recent years, including Mad Men, Bones and Dexter and remains universally popular.
Click here
for other
Chopin piano sheet music
on our website.
Piano solo
Sheet music

$4.99

$4.99

Sheet music with note names

$4.99

$4.99

Audio aid to guide you by ear (Mp3)

$0.99

$0.99

Video aid to guide you visually

$3.99

$3.99

Sheet music

$4.99

$4.99

Sheet music

+

Sheet music with reading aid

$6.99

$6.99

Sheet music

$4.99

$4.99

Sheet music

+

Sheet music with reading aid

$6.99

$6.99

Sheet music (Original version)

$4.99

$4.99

Sheet music (Original version)

+

Sheet music with reading aid

$6.99

$6.99