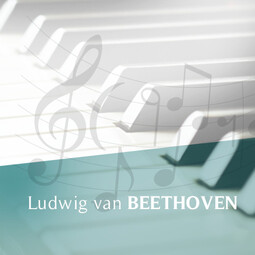 Für Elise
Bagatelle No. 25 in A minor
or
Für Elise
, as it is commonly known, is one of the most famous compositions for
piano solo
written by
Ludwig van Beethoven
and played by pianists the world over. We offer you the
original version
as well as our
adaptation Level 1
which is easier to play. Both versions are available with
reading aids
so you can fully enjoy this popular piece.
Für Elise
or
For Elise
was written around 1810 but was not published until 40 years after Beethoven's death. To date, the identity of Elise remains a mystery though there are several theories.
Click here
for other
piano sheet music by Beethoven
on our website.
Piano solo
Sheet music

$4.99

$4.99

Sheet music with note names

$4.99

$4.99

Audio aid to guide you by ear (Mp3)

$0.99

$0.99

Video aid to guide you visually

$3.99

$3.99

Sheet music (Original version)

$4.99

$4.99

Sheet music (Original version)

+

Sheet music with reading aid

$6.99

$6.99